Leftwich and surrounding area
Little Moreton Hall
St. Wilfred's Church in Davenham
Leftwich and Surrounds
The village of Leftwich is near the geographic center of Cheshire, a Palatine County, which means the Shire was independently governed by Earls until the union of England and Wales in 1536. Leftwich covers an area of approximately one mile square, bounded by Northwich to the north, Davenham to the south, and Rivers Weaver and Dane to the west and east respectively.
The only 17th century building still standing in Leftwich is the Bowling Green Inn
situated on London Road near the Victorian railway arches.
This timber-framed "black and white" building was originally erected about 1650, and was known to the later Leftwich family.
From the Bowling Green Inn, the London Road runs southward over Brockhurst Hill to Leftwich Green, adjacent to the where Leftwich Hall stood, and where the small post office retains a Leftwich hand stamp as a postmark for mail.
2. Little Moreton Hall
This hall, with it's beautiful timbers, very close resembles Old Leftwich Hall, both of the same time and area.
3. St. Wilfred's Church in Davenham
St. Wilfred's possibly stands on its present site from the eighth century, according to the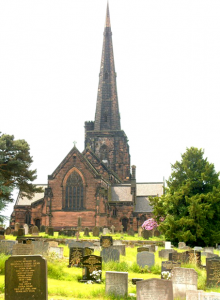 past Vicar, Reverend Christopher Rees, during our visit. The Vernons and Leftwich's were attendees, and some are buried there.
The church was located within the Manor of Shipbrook, and owned by the Vernons.
On the south side of the chancel of the church, is another chancel, divided off by an ancient carved screen which came from the Old Leftwich Hall.
The north transept was known as the Leftwich Chapel.
Mary Leftwich, of Shipbrook, asked in her will of 1642, to be buried in the Leftwich Chapel
Leftwich Village Photos from a previous tour